Looking for something different to serve as a snack, side dish or appetizer? Try these air fryer yuca fries, a less oily version of a classic Central and South American side dish also known as yuca frita.
I have to warn you: combined with a homemade spicy cilantro dip, these fries are rather addictive!
Jump to Recipe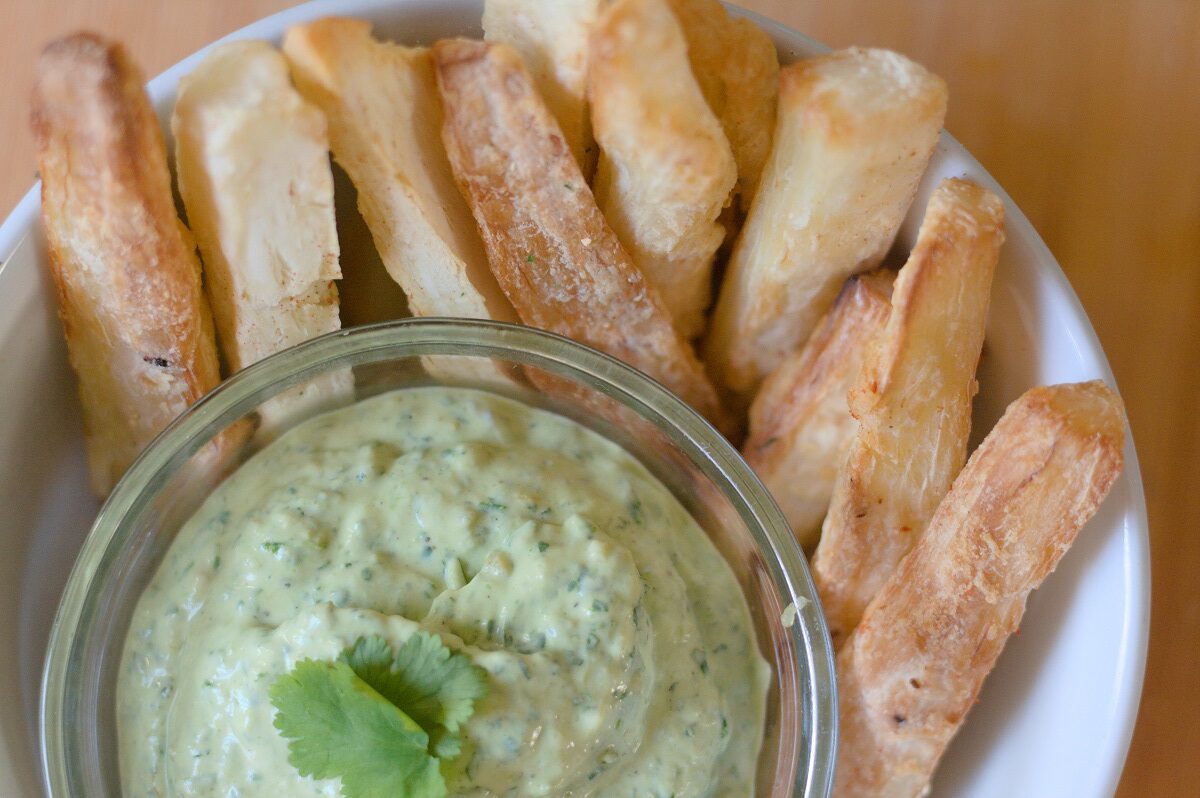 What is yuca?
No, I'm not talking about the succulent called Yucca (with two C's)! Also known as cassava, yuca is actually a root vegetable. Its scientific name is Manihot esculenta, and it's native to South America.
Yuca is popular in cooking throughout the Spanish-speaking part of America (and Brazil, too), as well as in West Africa and various Asian countries. In fact, it's one of the most important crops in many countries!
Although this elongated brown root hasn't really caught on in most of the US and Europe yet, I've been spotting yuca more and more. Not surprising, because it's delicious and incredibly versatile!
What are yuca fries?
I could dedicate a whole recipe blog to all the ways of cooking with this fantastic tuber, but for today, let's stick with one of my favorites: yuca fries, also known as "yuca frita". You may have seen them as a side dish on the menu in Mexican, Venezuelan, Colombian etc. restaurants.
If you've ever tried them, you'll know that yuca fries can definitely rival potato fries in terms of deliciousness. They're very crispy on the outside (often more so than French fries!) and delightfully creamy on the inside.
Keep reading to find out how to make air fryer yuca fries, a less greasy version of this classic finger food, accompanied by an addictive spicy cilantro lime dip!
Making air fryer yuca fries
One thing you need to know before we get started is that, like potatoes and some other root veg, raw yuca is toxic. So no sneaking a piece here and there during cooking! And don't worry, we're going to be cooking them quite thoroughly, so there is no risk at all once they're done.
First, you'll have to find a yuca root. I have never seen a Mexican or Latino supermarket that doesn't carry them, so if you have one of those nearby, you've got that part sorted.
Tip: Some stores carry pre-cut frozen yuca, so be sure to check the freezer. Peeling and cutting this root is a bit of a pain in the butt, so if you find it pre-cut, you're in luck.
Prepping yuca root
Once you've obtained your yuca, if you weren't able to find it pre-cut, the root needs some prep.
Here's how you do it:
Cut both ends off the root.
Cut into pieces of a more manageable size. They should be long enough to make fries later. You may have to be a bit aggressive about this, because the root is quite hard.
Use a paring knife to make a vertical cut through the peel.
Wedge the knife under the peel and give it a shimmy. You should now be able to take the peel off the entire piece in one go!
Cut the yuca into sticks. Thinner sticks give a crispier result, thicker ones are perfect for that crispy-outside-creamy-inside effect. Discard the fibrous inner core of the root.
Alright, that's the hard part over with! Now all you need to do is boil the yuca sticks to soften them. This will also give a slightly fibery texture that will ensure ultimate crisping later. After that, in the air fryer they go.
Tip: There will be some black streaks or stripes inside the root. If your yuca is totally riddled with them, though, it's unfortunately not fresh. Super annoying, but it happens occasionally.
Air fryer yuca fries method
Boil the sticks in salted water until they're soft (up to 15 minutes depending on thickness).
Pat the sticks dry, sprinkle or spray some cooking oil on them and place them in the air fryer. Don't crowd them too much or they won't become crispy.
Fry for up to 15 minutes at 380 °F/195 °C, depending on how brown and crisped up you like your fries.
Voilà, air fryer yuca fries!
Tip: By the way, you don't have to make these in the air fryer. It's just quicker, less messy and yields a result that's just as crispy. If you prefer frying them in oil, feel free to do so. They're done when they're nice and golden.
Spicy cilantro sauce for yuca fries
You can serve yuca fries with any sauce or dip you want, but since this is a spicy food blog, I would like to invite you to add a little heat with a spicy cilantro lime sauce. Don't worry, it's not crazy hot – unless you want it to be.
Cilantro lime dressings, dips and sauces are pretty popular in many Central and Latin American countries. They're often made with mayo, but for this one, let's go for a mix of avocado and sour cream (or yogurt, if you want something even lower in fat) instead.
The other ingredients are:
Cilantro: get the freshest bunch you can! You should be able to pick it up at the Mexican supermarket along with the yuca.
Lime: again, fresh is best. Bottled will do in a pinch.
Avocado: for ultimate creaminess and a nice extra green color.
Sour cream: I like its freshness more than mayo, and it's way less fatty as well. You can sub with Greek yogurt if that's your jam.
Garlic: just a clove for added flavor.
Jalapeño: didn't think I was gonna forget about the spicy element, did ya?! I used pickled whole jalapeños because the vinegar adds an extra layer of flavor, but fresh is great too. For more spice, try green habanero instead.
Salt & pepper to taste.
Once you've gathered all those ingredients, the rest of this process literally couldn't be easier. Just place everything in an immersion blender jar and blend away! Add some water if the consistency is too thick. Continue until smooth.
You can also blend the sauce in a food processor.
Air fryer yuca fries with spicy cilantro dip recipe
Air fryer yuca fries with spicy cilantro lime sauce
The combination of ultra-crispy yuca fries and a spicy dip with cilantro, lime and jalapeño makes for a rather addictive finger food, side dish or game day appetizer.
Equipment
Immersion blender or kitchen machine

Air fryer
Ingredients
For the air fryer yuca fries
1

yuca root

about 2 lbs; cut into sticks (see post for instructions)

1

tbsp

Cooking oil

or spray

salt

to taste
For the spicy cilantro lime sauce
1

cup

sour cream

or Greek yogurt

1

bunch

cilantro

1/2

avocado

1

lime

1

pickled jalapeño

see notes

1

clove

garlic

salt & pepper

to taste
Instructions
For the yuca fries
Bring a pot of salted water to a boil. Add the yuca sticks and boil until soft (up to 15 minutes depending on thickness).

Pat the yuca dry, drizzle or spray with oil and place in the air fryer. Don't crowd it!

Cook at 380 °F/195 °C for up to 15 minutes (until brown and crispy).
For the sauce
Remove the largest stems from the cilantro. A few small ones are fine to leave on.

Place all the ingredients in a stick blender jug or kitchen machine and blend.
Notes
1. You can use fresh jalapeño too, but the vinegar in the pickled ones does add an extra layer of flavor. If you like it more fiery, try going for a more spicy green chili pepper instead, or just upping the jalapeño content.
2. Instead of putting salt on your yuca fries, you can also sprinkle them with chili lime seasoning. Yum!
3. The sauce lasts for 5 or so days in the fridge in a covered jar. Its flavor will actually deepen as time passes! You can use any leftovers on tacos or even add some water and dress a salad with it. So good.