This summer, cool off with a refreshing michelada de piña (also known as a pineapple michelada). With its tropical fruity flavor and surprisingly spicy kick, this beer cocktail is perfect for those looking for something a little sweeter than a traditional michelada!
Jump to Recipe
What is a michelada de piña?
If you're familiar with the concept of a michelada, I probably don't have to explain to you what a pineapple michelada is. Same concept, except the tomato juice is swapped for pineapple juice for a fruitier drink without the savory notes!
For those who haven't been introduced yet to the marvel that is a michelada, here's the short version. A michelada is a beer cocktail originally from Mexico.
To make a normal michelada, a light lager or tequila-flavored beer is mixed with tomato juice and various condiments, like Worcestershire sauce, soy sauce and/or Maggi seasoning. A generous dash of Tabasco or other hot sauce is added for a fiery kick.
Today's michelada de piña follows the same basic concept, but we'll skip the tomato juice and savory condiments. We keep the beer and Tabasco, though, no worries! The result is an equally refreshing but more tropical pineapple michelada.
I love this drink for hot summer days because it's seriously refreshing. Plus, the relatively low alcohol levels mean I can have a good few without having to worry about getting drunk or dehydrated.
What do you need for a michelada de piña?
You don't have to be a mixologist to make a pineapple michelada. You'll need a few different ingredients, but the recipe and method themselves are simple enough.
It's easy to make a whole bunch of micheladas de piña, so invite your friends for a summer afternoon on the deck or in the garden and get mixin'!
Here's what you'll need:
Beer
As mentioned, pretty much any beer will do. You can go for any light lager, or choose a tequila-flavored option like I did in the photos. I have to say we were quite enamored with the refreshing combination of Corona beer and pineapple juice!
Pineapple juice
If you can get freshly pressed pineapple juice, that would be perfect, but I know it can be pricey and a little hard to find.
Honestly, bottled juice or even pineapple juice from concentrate will do the trick. We'll be mixing it with other strong flavors anyway.
Lime juice
For the lime juice, I do really prefer fresh limes. This being said, bottled should probably work in a pinch.
Tabasco
Or your favorite hot sauce. I like Tabasco because it's nice and tangy, but if it's not spicy enough for you, feel free to swap it with something more to your liking.
Chili lime seasoning
This one's optional, but homemade chili lime seasoning or store-bought Tajín work very well for the glass rims. You can also just mix salt with some cayenne powder, though.
Did you know? Some pineapple michelada recipes use a dash of another condiment named chamoy, a savory, sweet and tangy flavor bomb made with pickled fruit. We tried both versions and preferred our cocktails without chamoy, but there's nothing stopping you if you like it!
Method & presentation
To make a michelada de piña, you'll need a large glass, like a pint glass. Alternatively, you can go for an actual pineapple (as I did in the photos below) if you want to take things up a notch!
Here's how you mix this beer cocktail:
Place chili lime seasoning or salt and cayenne powder mix on a shallow dish.
Wet the glass rim using a slice of lime and dip in the seasoning mixture to coat.
Add your desired amount of ice to the glass, followed by the lime juice and Tabasco.
Fill the glass halfway with pineapple juice, then top off with beer. Give the cocktail a stir.
Decorate the glass with a slice of lime or pineapple, plus whatever else you'd like to add: fun stirring sticks, a cheeky maraschino cherry or even a little cocktail umbrella?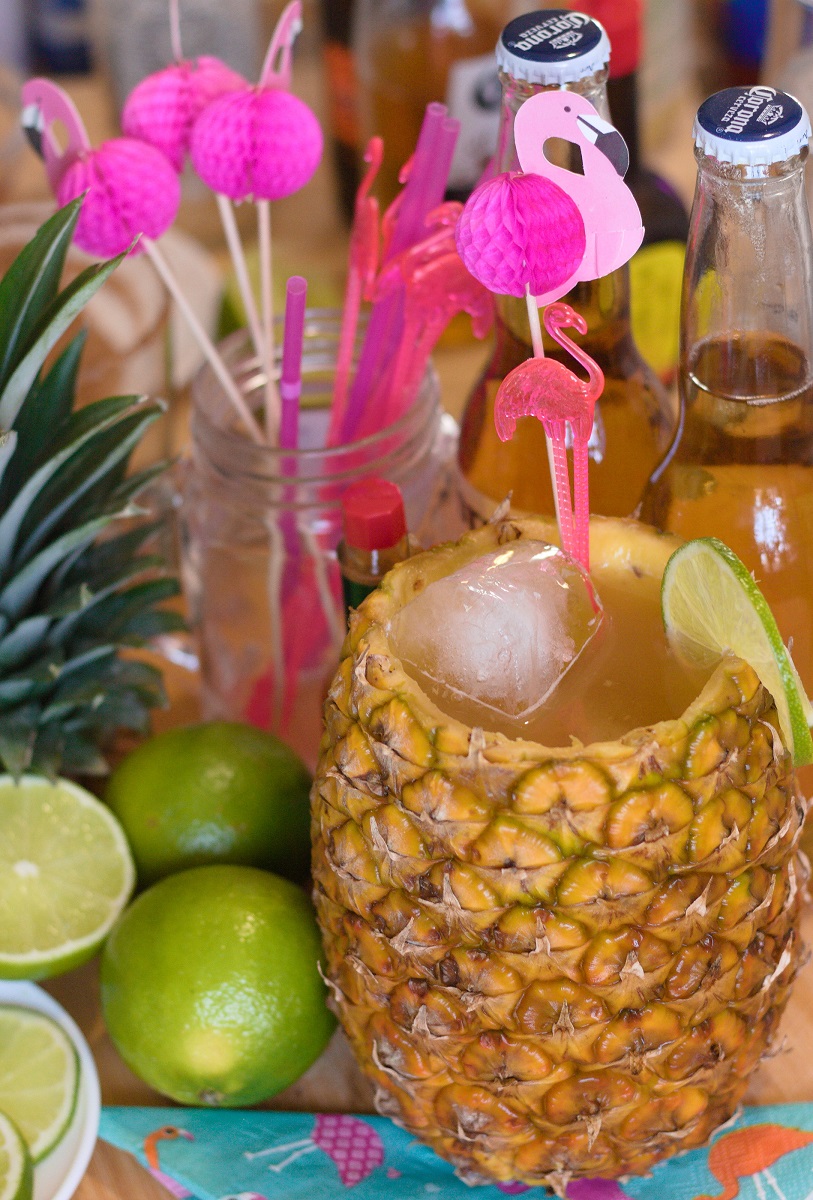 Michelada de piña recipe
Michelada de piña (pineapple michelada)
Beer, pineapple juice and Tabasco come together to make the ultimate refreshing summer cocktail.
Equipment
2 pint glasses

or hollowed-out pineapples if you want to be fancy!

1 cocktail spoon
Ingredients
For the rim
1

tbsp

chile lime seasoning or Tajín

see notes

1

pineapple slice

or lime
For the michelada
1

beer

Corona, Sol, Desperados or any lager – 12 oz

1

cup

pineapple juice

fresh or bottled

2

tbsp

lime juice

about 1 lime

1/2

tbsp

Tabasco

or more, that's up to you

(crushed) ice
Instructions
Place the chili lime seasoning on a shallow dish. Wet the glass rims with a slice of lime and dip in the seasoning to coat.

Add your desired amount of ice to the glasses. Add 1 tbsp of lime juice each and however much Tabasco you want.

Fill the glasses halfway with pineapple juice, about 1/2 cup each. Top off with the beer and gently stir.

Decorate the glass with the pineapple or lime slice, plus whatever else you'd like to add. Voilà! Your michelada de piña is done. Enjoy and drink responsibly!
Notes
1. To rim the glass, you can use our chili lime seasoning recipe, which is perfect for many different Mexican and international dishes and drinks. Alternatively, regular salt with a dash of chili powder will also work just fine.
2. You can use bottled lime juice, but I do think fresh tastes better.
3. The Tabasco can be swapped for any hot sauce you prefer. The spicy food addicts among us might want to go for something fierier, for example!