Looking for a refreshing but non-alcoholic drink for those hot summer afternoons? A virgin michelada may be just the thing you need! This spicy Mexican beer cocktail with tomato juice is easy to make with or without alcohol, and it's the perfect drink to relax with after a long day in the sun.
Keep reading to find out what a michelada is and how to quickly make a virgin michelada at home!
Jump to Recipe
What's a michelada?
The concept of a michelada originated in Mexico. It's a mix of beer, tomato juice, lime juice, condiments and a kick of hot sauce. The name is said to be a blend of the words "mi chela helada", which means "my icy cold beer".
I know the concept of mixing beer and tomato juice can sound odd if you've never had a michelada before, but you gotta give it a try! That spicy mix of refreshing beer and electrolyte-laden tomato juice is just what you need on a hot summer's day. It's the BEST after a long afternoon of summer gardening.
As with most popular cocktails, over time, many varieties of michelada have popped up. You can get them mango-flavored, without the tomato juice (called a chelada), with Chamoy sauce and spicy gummies (gomichelada)… there's even a popular version served with shrimp (michelada de camarones)!
I figured I'd go for a non-alcoholic michelada for today's recipe, since it's very easy to go 0.0% with this cocktail. All the spice, all the flavor, none of the headache tomorrow.
What do you need for a virgin michelada?
To beer or not to beer?
That is the question! I've seen virgin michelada recipes that omit the beer and go for a mostly tomato juice-based drink, possibly topped with some carbonated water to avoid losing the light sparkle.
I don't necessarily feel like that's the best way to go. It's so easy to find an alcohol-free beer you like nowadays that you might as well keep the real michelada flavor and remove only the alcohol! Even if you're gluten-free, some places should carry 0,0% beers without any gluten.
Since I live in Spain, I used what was on hand: alcohol-free Mahou beer, which is a beloved local brand. You can go for whatever neutral 0.0% beer, though! I particularly like my micheladas with Corona or Sol, for example.
Tomato or Clamato juice
Your michelada is gonna need tomato juice, but if you can find it, you can go for the slightly fancier version and use Clamato like I did here. As the name suggests, this is a tomato juice brand that has some added clam juice, giving it an extra flavor punch. Don't worry, it doesn't taste like clams.
Clamato is very popular in Mexico and easy to find in Canada as well. If your local supermarket doesn't carry it, try a Mexican supermarket it there are any nearby. You'll be sure to find it there!
Hot sauce
Any you like! Tabasco is the classic, but if you're a spicy food addict, it may not be fiery enough for you. You can also use something like sriracha or even gochujang if you don't mind a slightly different flavor.
For extra fire, some folks like to add chili-flavored gummies as garnish.
Lime juice
Lemon is okay, but the original version uses lime. You should be able to get away with going for bottled juice, but if you've got fresh limes on hand, that's obviously superior.
Worchestershire sauce
Also for sale in Mexican supermarkets as "salsa inglesa". It gives the drink an extra layer of umami and a nice bit of tang.
Maggi or soy sauce
I used Maggi seasoning, but if you don't have it on hand, soy sauce is fine. You can even omit this completely if you don't like the salt level, but I personally love the depth these condiments add.
Chili lime seasoning
Technically, you can just rim your glass with salt, or with salt + cayenne pepper if you're feeling fancy. Many Mexican places will serve micheladas with Tajín, though, so let's do something similar here!
You can buy this popular seasoning in any Mexican supermarket, but it's also easy to make yourself. Check out the full chili lime seasoning recipe to find out how.
Garnish
When it comes to garnish, micheladas can absolutely rival the extravagant Bloody Mary. And just because you're not using alcohol doesn't mean you can't make a fancy drink, am I right?
Here are some popular michelada garnish options:
Lime slices
Cucumber slices
Celery sticks
Spicy gummies
A jalapeño (bonus points if it's candied, yum!)
Cooked shrimp (yes, it's a thing!)
Olive skewer
Pickles
Fresh fruit with a sprinkle of chili lime seasoning
Spicy virgin michelada method
Making a michelada is a breeze, no mixology skills required. Here's how you put one together:
Place chili lime seasoning (or simple salt) on a small shallow dish.
Wet the rim of your glass using a wedge of lime.
Press the rim of the glass into the seasoning on the dish and shimmy it a little to make it stick.
Add the condiments to the glass: lime juice, hot sauce, Worcestershire sauce, Maggi/hot sauce. Stir.
Add ice and fill the glass halfway with tomato or Clamato juice.
Top it off with beer. Stir again, or don't – that's up to you.
Enjoy! And since there's no alcohol, there's no need to drink responsibly. 😉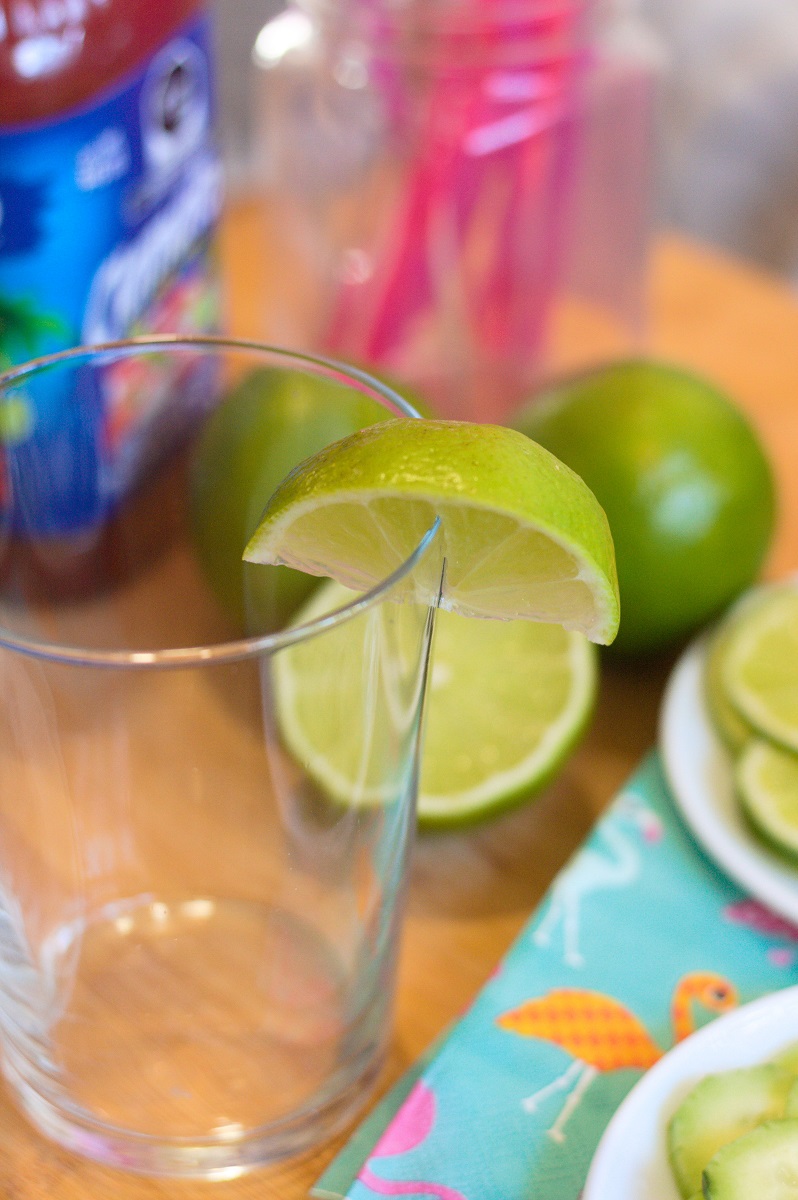 Virgin Michelada recipe
Spicy Virgin Michelada
No need to drink responsibly with this non-alcoholic iteration of the classic Mexican beer cocktail.
Equipment
2 pint glasses

1 cocktail stirrer

1 shallow dish
Ingredients
For the rim
2

tsp

chili lime seasoning

see notes

1

slice

lime
For the virgin michelada
1

alcohol-free beer

any lager works – 12 oz

1

cup

Clamato or tomato juice

2

tbsp

lime juice

about 1 lime

1

tbsp

Worcestershire sauce

1

tbsp

Maggi

1/2

tbsp

Tabasco

or more – up to you!

(crushed) ice
Instructions
Place the chili lime seasoning on a shallow dish. Wet the glass rims using the extra lime slice and dip in the seasoning to coat.

Add half of the lime juice, Maggi/soy sauce, Worcestershire sauce and Tabasco/hot sauce to each glass. Stir.

Add as much ice as you like. Pour in tomato/Clamato juice and top with alcohol-free beer. Stir again.

Garnish the drink however you like. Cheers!
Notes
Tajín brand chili lime seasoning works well for the rim, or make your own. You can also use a combo of cayenne powder and salt, or even just salt on its own.
You can go as crazy as you want with the garnish. Classic options include lime slices, cucumber slices, cooked shrimp, spicy gummies and much more.