Welcome to the wonderful world of chili, lime and salt! A chili lime seasoning blend marries spiciness, acidity and saltiness in a way that enhances loads of different foods. You can't miss it in your spice cabinet, I promise.
Jump to Recipe
What is chili lime seasoning?
This spice mix has long been a staple in Mexican cooking. The most well-known commercial version is produced by a company called Tajín (not to be confused with tajine, which is traditional Moroccan dish).
This recipe is for those who can't find Tajín or any alternatives in their local store, or just prefer to make it themselves. It uses almost exactly the same ingredients and comes pretty darn close to the original!
How to use chili lime seasoning
If you're here because you love Tajín (or the Trades Joe's chili lime seasoning), you can probably skip this section, since you're already aware of the magic of chili and lime!
For the uninitiated, chili lime seasoning is popular in Mexico and beyond to boost the flavor of fruit. I know it can sound odd if you haven't tried it, but the combination of salt, spicy and lime really takes a mango or pineapple slice to the next level.
Aside from this, there are loads of other ways to use a chili lime spice mix. Use it on the rim of a margarita glass or sprinkle it on:
Raw veggies like cucumber, red pepper or tomato slices
French fries or potato chips
Popcorn or corn on the cob
Grilled chicken or shrimp. Or tofu!
Fried or boiled egg
Roasted nuts or pumpkin seeds
Guacamole or avocado toast
Really, I could go on. That trifecta of chili, lime and salt really enhances pretty much anything!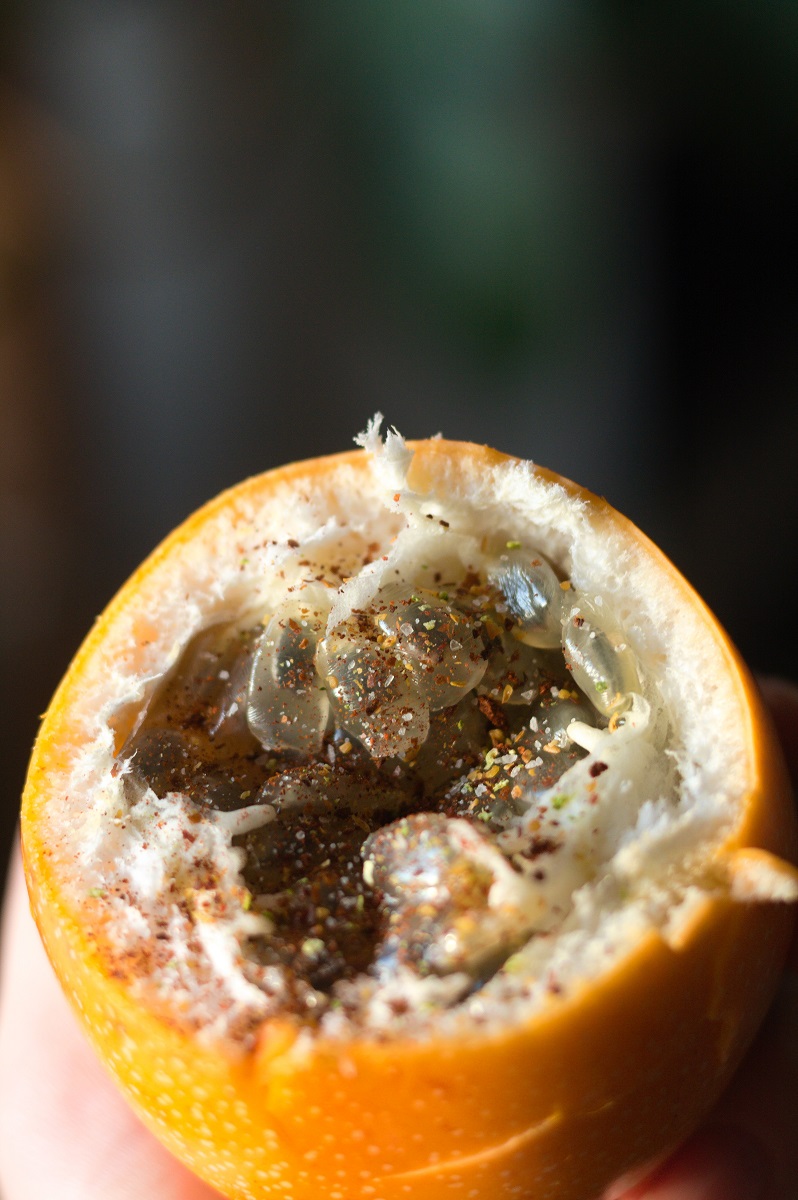 Ingredients
As mentioned, this recipe is a riff on the classic Mexican Tajín seasoning. I had a look at the ingredients for it, and they are: chili peppers, salt, citric acid and dehydrated lime juice (plus silicic acid as a release agent, but we'll skip that one, shall we?).
If you're wondering whether you're really going to have to buy citric acid powder and dehydrated lime juice just to make some chili lime seasoning, just trust me on this one.
These ingredients don't just make this seasoning blend awesome, but are also just really handy to have on hand anyway. No more stressing if you ever run out of lemons or limes for a recipe, or use them in a refreshing drink.
So anyway, this means we'll be using:
Ground chili peppers. I used a mix of cayenne and "chili" (which is usually a mix) powder. Any chili variety you like works!
Salt. The only important thing is that the grain size is similar to the other ingredients you're using, otherwise it won't mix as well.
Citric acid. I found this at my local Asian supermarket.
Dehydrated lime juice. I bought it online, although your local Mexican supermarket may carry it as well.
For my own seasoning mix, I also added some lime zest that I dehydrated using my dehydrator. It adds a nice green color and lovely lime aroma, but since it's technically not a chili lime seasoning ingredient, you can leave it out.
Chili lime seasoning
Move over tajín! We're making our own delicious chili lime seasoning for fruit, margarita rims and much more ourselves today.
Ingredients
4

tsp

chili powder

Traditionally various types of chilis are used, but even just cayenne is nice already.

1

tsp

lime zest powder

1

tsp

citric acid

1

tsp

fine salt

1

tsp

paprika

Optional; sweet or spicy
Instructions
Mix all the ingredients together. Store in a clean spice jar in a dry, dark place (like your spice cabinet!). Your chili lime seasoning will last for up to a year, although you're bound to run out before that with how addictive it is.
Notes
If you'd like to add some lime zest powder like I did, here's how you do it: j

ust

take three limes and grate them to obtain the zest (don't include much of the white part of the skin, as that's bitter). Alternatively, peel them and crush the peels in a spice grinder once they're dry.
Once you've got the zest, you can dry it in your oven (on the lowest possible temperature), dehydrator (mine dried in about 3 hours on 150 °F/65 °C) or even just on a sunny windowsill (that takes a day or two). Voilà! Ready to mix into your chili lime seasoning.
If you have any questions or want to share your own favorite ways to use chili lime seasoning, don't forget to leave a comment below.